The best way to avoid starting your "fuck ass" job at a pizza place is to tweet that the job is "fuck ass" the day before you start.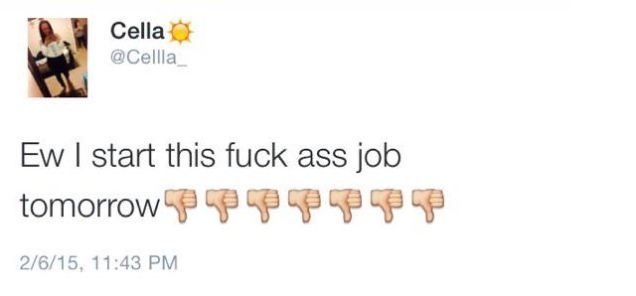 Ruh-roh. (screenshot via Gawker)
Texas teenager Cella got hired at a pizza place where her would-be boss says her duties would have been "working register, taking phone orders, making subs/salads. Eating free pizza."
Ew.
After she publicly thumbs-downed her disappointment with her new job, her would-be boss, Robert Waple, Jets Pizza franchise owner and alleged fat prick, was alerted to the tweet by a backstabbing would-be co-worker. Waple broke out of Twitter retirement (he hadn't posted anything on there since 2009) to let her know that, no, she won't be starting her fuck ass job.