The best way to avoid starting your "fuck ass" job at a pizza place is to tweet that the job is "fuck ass" the day before you start.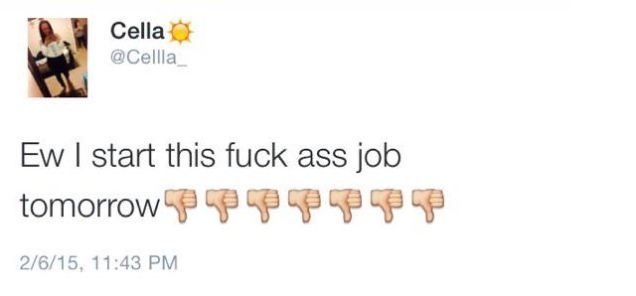 Ruh-roh. (screenshot via Gawker)
Texas teenager Cella got hired at a pizza place where her would-be boss says her duties would have been "working register, taking phone orders, making subs/salads. Eating free pizza."
Ew.
After she publicly thumbs-downed her disappointment with her new job, her would-be boss, Robert Waple, Jets Pizza franchise owner and alleged fat prick, was alerted to the tweet by a backstabbing would-be co-worker. Waple broke out of Twitter retirement (he hadn't posted anything on there since 2009) to let her know that, no, she won't be starting her fuck ass job.

And that is how you get fired over Twitter with the quickness. Twitter-land then exploded with a million renditions of "how stupid do you have to be to get fired over Twitter?" and "LMAO."

One tweeter called the boss man out on being suspect for reappearing on Twitter after such a long absence. Pizza boss Waple explained how it all went down: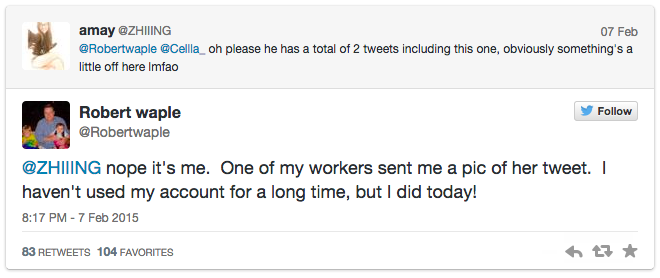 Even though Waple was proud to take responsibility for his Tweets on Feb. 7th, now that the story is going viral he has made his account private.

Before he did, an old Jets Pizza employee emerged from his cloud of pot smoke to get into it with Waple and defend the claim that the job was indeed fuck ass, and that he had to be high to endure working there.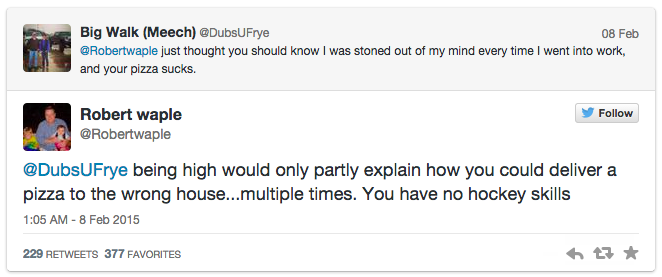 Not his hockey skills!!!
The former pizza peddler also tweeted out a message of hope for Cella (now deleted) to make sure she felt ok about her decision.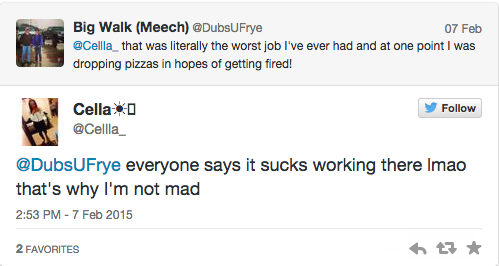 (screenshot via Gawker)
Based on this recent tweet, she seems fine with her decision.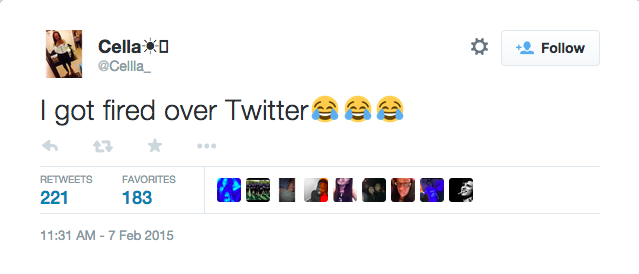 As long as you are crying, you might as well say you are crying from laughing. Besides, she doesn't really have time to be dealing with a fuck ass job. According to this recent post, she has bigger fish to fry. Forget about the pizza thing, what the hell is going on here???
Gonna go take a walk before court & clear my mind.
— Cella☀️ (@Cellla_) February 9, 2015
Can you get arrested for calling a potential job fuck ass? She never mentioned the name of her place, so I'm guessing she is in legal trouble for something other than disparaging a pizza joint. If there is one bright side to this story (besides her five minutes of Twitter fame), the loss of her job will give her a good opportunity to reconnect with her dad.
It's sad that me & my dad only talk when I need money lmao.

— Cella☀️ (@Cellla_) February 5, 2015