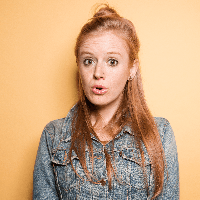 Filed by may wilkerson

|

Sep 22, 2016 @ 12:10pm
This picture of a half-eaten bunch of grapes captures the hilariously literal way kids think. WARNING: view at your own risk—I don't want to have kids, but once I saw this I was like OMG where do I get one??
According to the original post on Reddit, this little girl's mother gave her some grapes as a snack, but she wasn't that hungry so she told her mom it was too many. So her mom told her to "just eat half of em." And she took that advice extremely literally.