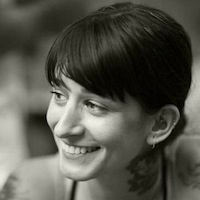 Filed by Jessie Dean Altman

|

Feb 03, 2016 @ 9:35am
As if there weren't enough horrifying things that could go wrong with tiny, helpless babies with their soft heads and rubbery necks, a Kansas dad recently posted a picture on Facebook of his infant daughter's toe that will make you want to cover your eyes (and your baby's toes).
According to BuzzFeed News, Scott Walker (no, not Wisconsin's Scott Walker) was out to lunch with his family when Molly, his five-month-old daughter with wife Jessica, became "very upset" and wouldn't settle down, no matter what they tried. The Walkers had an instinctive feeling that something wasn't right—Molly suffers from colic and acid reflux, so fussiness isn't unusual, but something definitely seemed "off" in this case. Jessica took off Molly's socks to cool her down, and she noticed her daughter's toe was red and inflamed. A piece of hair had become wrapped so tightly around it that it was actually cutting into the baby's skin.