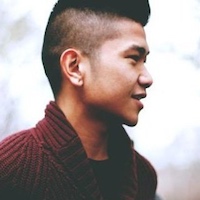 Filed by Keith Estiler

|

Apr 25, 2016 @ 3:17pm
Now, here's a lemonade story that is way more sweet than sour (unlike Beyonce's sixth solo album... sorry). Tristin Jacobson is a 9-year-old kid from Springfield, Missouri who sold $1 lemonades this past Friday so he can help pay for his own adoption. That salty taste you're experiencing is a single tear that just rolled down your cheek.
Jacobson opened up his very own lemonade stand just outside of his Springfield home. He lives with his guardians, Donnie and Jimmy Davis, who have been taking care of him since he was five.
According to WGNTV, Jacobson's biological mother left him on the doorstep of a homeless shelter four years ago. The Davis family has looked after the young lemonade entrepreneur ever since.
Mrs. Davis told The Springfield News-Leader that she always considered adopting Jacobson, but the adoption fees were way too expensive. However, Jacobson's lemonade stand, as well as a weekend yard sale, raised over $7,000 to help cover the cost of the fees. Jacobson and the Davis family also received $6,900 from their "Tristan's Adoption Fund" on YouCaring.com.
The family was only looking to raise $5,000, but they raised a grand total of $14,000. Jacobson has more than enough to pay for his own adoption. You go, kid!
The family already acknowledge Jacobson as their own child. The adoption process is "more for reassurance for him (Jacobson), knowing that he has his forever family and he has our name," Mrs. Davis said.