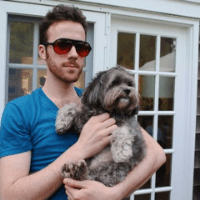 Filed by Miles Klee

|

Mar 04, 2017 @ 5:22pm
Chrissy Marie of Lakewood, Washington, is looking for "Jake," one of two siblings who apparently stole a wind chime from her front porch. But she's not out to get him in trouble—she just wants to return his $5.
Jake left the cash behind for Chrissy along with a heartbreaking note that explained the theft: "I am sorry that we stold [sic] your wind chime our mom died and liked butterflies so my sister took it to put by her window," he wrote. "I am sorry this is the only money I have please do not be mad at us."
Jake explained in the note that the chime, which had butterflies on it, reminded his sister of their mother who had died.

Posted by KING 5 on Saturday, March 4, 2017
Far from being mad, Chrissy—who told local news affiliate KING 5 that she lost her own mother when she was just 5 years old—says she understands. She wants to return the $5 and get Jake and his sister another wind chime just like the one they took, so that they can both have something to remember their mom by.
Anyone in the area with any info on who Jake or his sister are is encouraged to email webseattle@king5.com. With a little luck, they'll be able to meet Chrissy face to face and shed some of that guilt they're carrying around with them.