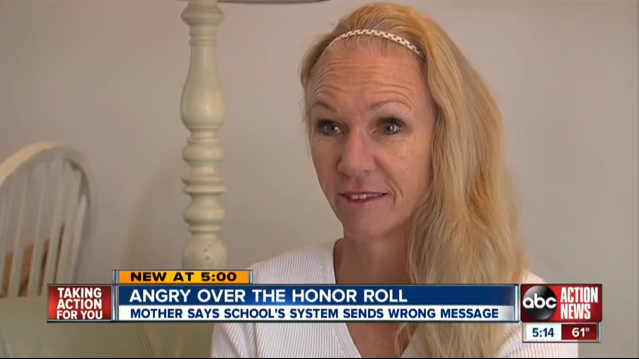 Not-at-all proud parent of an honor roll student.
Meet Beth Tillack, a mom who will cut you if you try to put one of those "my kid made the honor roll" bumper stickers on her car.
Beth told ABC Action News that her son's school wasn't doing her or her son any favors by adding him to the honor roll. Pasco Middle School in Pasco, Florida sent Beth's son home with a report card that showed he'd earned a 3.16 GPA, and included handwritten notes that read "Good Job" and informing him that his GPA landed him on the honor roll. This despite that fact that mixed in with his 3 A letter-grades, he'd gotten a C in one class and a D in another.
While many parents would be excited for their kid to get yet another award just for breathing, Tillack contacted the school demanding a retraction. She told them that giving her kid a reward when he's getting D's only makes her job harder. As she told ABC Action News, "How can I get my child to study for a test when he thinks he's done enough." The policy being based solely on grade point average would allow kids with an F grade onto the honor roll if they offset it with enough A's.
In a decision that might piss off parents who really just want one of those bumper stickers on their cars for when they pull up to soccer practice, the district superintendent announced that they were changing the policy so that no student will hit the honor roll if they have a letter grade lower than a B.
We salute you, Beth Tillack. This is a great victory in the war against constant validation for our nation's underqualified youth. If more moms join the fight, who knows? One day we might even be able to get our interns to actually do some work for us. Dream the dream.
(by Bob Powers)