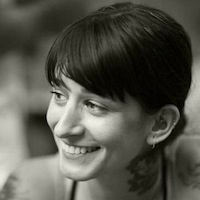 Filed by Jessie Dean Altman

|

Sep 20, 2016 @ 9:38am
Some of us barely open our eyes before we stumble out of our homes in the morning, but Ron Alston and his three-year-old daughter, Aliyah, have a different sort of start to their days. Every morning, Alston and Aliyah stand in front of the mirror and practice positive affirmations about being respectful and working hard.
Morning Motivation Starting off with positive affirmations can set a great tone for how your day unfolds. Learning this from an early age can be very beneficial in the esteem and confidence of a child. We are all Destined for Greatness!

Posted by The DFG Movement on Wednesday, September 7, 2016
Alston, a program director at the YMCA who supervises 40 to 60 children a day, posted a video of one of the morning motivational sessions on his Facebook page, DFG (Destined For Greatness) Health and Wellness, which has now been shared over 330,000 times and watched 12 million times.