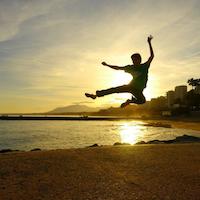 Filed by Mitchell Friedman

|

Jul 29, 2016 @ 10:33am
Lest you think dads are completely unable to help out in the delivery room, Australian mom Alisha Baxter took this photo of her baby's father's face while she was in labor.
I thought I'd share this photo of my partner while I was in labour. Everytime I look at his face and how squished his fingers are I crack up 󾌴󾌴

Posted by Alisha Baxter on Sunday, July 24, 2016
He's providing the comic relief.
Although as he sees it, it's more of a "pain" thing.