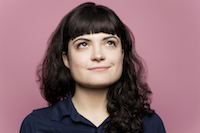 Filed by Jaime Lutz

|

Mar 16, 2016 @ 2:15pm
There are lots of women on Instagram who are really good at this whole beauty thing, but Alaha Majid, a mom in New York City, bested them all by doing an incredibly complicated look while in labor. As in, while a baby was coming out of her. Her pictures ended up going viral, with over 5,000 people liking each of her labor day Instagram photos.
"I was pausing during contractions and picking up where I left off once the contractions passed," Majid said in her Instagram caption, where she also listed the products she used including multiple eyeshadow palettes, foundation, fake eyelashes, a contour kit, pomade and color for eyebrows, several liquid lipsticks, and setting spray.​