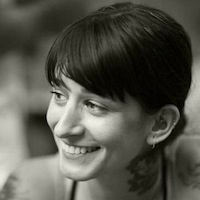 Filed by Jessie Dean Altman

|

Jan 27, 2016 @ 9:08am
Last Thursday, LynnMarie Rink and her nine-year-old son James were shopping at an Apple Store in Nashville, when James, who has special needs, ran into a glass wall. No long-term harm was done to either the child or the glass, but all the customers in the store gasped at the noise and turned to look, and Rink was understandably shaken up and stressed out. That is, until Andrew Wall, an employee at the store, came over to where mother and son were sitting on the floor and went out of his way to help.
Rink was so grateful that she later took to Facebook to post a thank you to the employee and the store. Her letter, which has over 1 million page views and 20,000 shares, explains how important the iPad is as a learning tool to James, who was born with Down syndrome and also has autism.