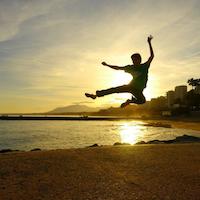 Filed by Mitchell Friedman

|

Aug 02, 2016 @ 5:05pm
Writer and "Australian blogger, freedom fighter, [and] queen lover" Constance Hall ran into Facebook's strident, baffling censorship rules recently, and nearly 100,000 people are endorsing her response. It looks a lot like an erect middle finger.
Facebook deleted the photo of my glorious curvaceous comfy body the other night. In an act that can only be described as #mumbod envy. Don't worry admin, one day you will have a comfy #mumbod too 󾮖🏼

Posted by Constance Hall on Wednesday, July 27, 2016
According to Metro, the removed photo "had shown Constance cuddling her topless seven-year-old daughter." A carefree child without a shirt on? Too dangerous for the public.