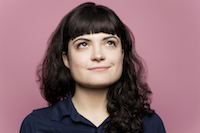 Filed by Jaime Lutz

|

Mar 01, 2016 @ 6:35pm
Eva Amurri—Susan Sarandon's daughter, an actress, and the mommyblogger of "Happily Eva After"—wrote a rather salacious blog post yesterday about firing her nanny because of an "accidental" sext the babysitter sent to Amurri's husband. Gasp about that below, and also at the people who are given every possible advantage in life and still decide that they want to become mommybloggers.
Apparently, Amurri's nanny accidentally sent the following text to the husband:
OMG. Girl, did I mention to you how hot and sex my Boss is. I would love to fuck his brains out ha haah. Too bad he seems not to like thick Latin women with lots to hold on to LOL.
Oh dear. Apparently, Amurri's husband began to suspect that the text wasn't sent accidentally when he saw the nanny looking at him from the window of his bedroom, where she wasn't allowed to go.
(According to Amurri, "at this point in Kyle's story, the part of me who is the teenager who came of age in Brooklyn started bubbling up– and my hands started itching to take my earrings out and hold them while I got CRAZY." Girl, you are ACADEMY AWARD-WINNING ACTRESS SUSAN SARANDON'S DAUGHTER. What part of Brooklyn do you expect readers to believe you're from?)