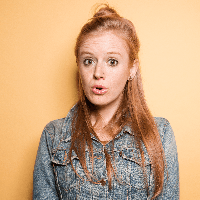 Filed by may wilkerson

|

Mar 10, 2017 @ 5:20pm
Rachel Sklar is a feminist media figure, former lawyer and co-founder of The Li.st, a professional network for women. Oh, and she's also a single mom of a 10-month-old daughter named Ruby.
How does she do it all?? Multi-tasking, of course (moms are the best at this)! During a recent TV interview, Sklar managed to breastfeed her 10-month-old daughter, Ruby, on air, without anyone noticing. Until the very end, when somebody very adorably gave her away.
You can watch the hysterical moment here:
"I thought it went off without a hitch—I didn't realize she'd reached up at the end until they told me after the segment," Sklar told HelloGiggles. "Her timing was perfect; she did it right when I was signing off. She wanted in on the action."
Sklar shared the GIF on Twitter, where it has been retweeted hundreds of times. Twitter is obsessed with her badass mom skills:
(Someone give this woman a trophy already!!!!!!)
And at least one mom can relate.
@MarissaLF @rachelsklar @CBCNews I had totally forgotten about the ace-in-the-hole of "get things done with the baby around by feeding" 👍

— Marissa Maciel (@standardtuber) February 26, 2017
Sklar also told HelloGiggles she often posts "brelfies" to do her part to help reduce stigma and secrecy around breastfeeding. Like this adorable one:
A post shared by Rachel Sklar (@rachelsklar) on
"I find it bananas that there is any controversy around breastfeeding," she said. "It's a completely natural phenomenon."