Actress and mom of 15 Mia Farrow flubbed a Twitter birthday message in a super weird way.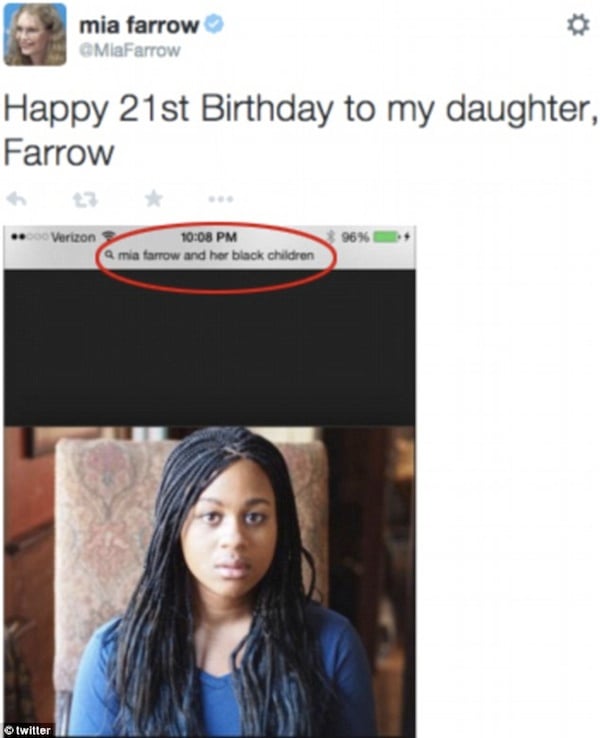 At least she didn't search "mia farrow and that one who's turning 21 today." (via Daily Mail)

Mia Farrow has 15 kids—11 of whom are adopted, along with 4 biological children with Woody Allen and Andre Previn—so it makes sense that sometimes she has a hard time finding a photo of a particular kid. Yesterday was Quincy Farrow's 21st birthday, and Mia wanted to tweet a birthday message for her.
So naturally she googled "mia farrow and her black children" to get the photo she needed.
She then took a screenshot of the search results (it's a mom thing) and shared the photo with the message "Happy 21st Birthday to my daughter, Quincy Farrow."
She was appropriately ridiculed by Twitter users and took that post down, replacing it with this tweet:
Happy 21st birthday to Birthday to my awesome daughter, Quincy Farrow pic.twitter.com/lgtAAO2AJF
— mia farrow (@MiaFarrow) January 19, 2015
Good god, woman. Get a copy editor.
Now Quincy is "awesome," presumably because she was cool about the whole Google search terms fiasco.
Farrow tweeted at the New York Observer to explain that it actually is her own photo: "I took the photo myself & posted it before. Then someone sent it to me & I didn't check source." Did you not check the source or did you not check the image? That explanation still doesn't make a whole lot of sense, but okay, whatever.
The main thing is, it's Quincy's 21st birthday to Birthday, so let's all just relax and celebrate what an awesome black daughter she is.