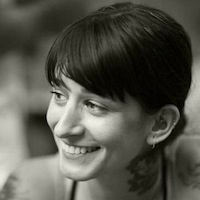 Filed by Jessie Dean Altman

|

Mar 17, 2017 @ 1:39pm
One mom is going viral with her cringeworthy video showcasing the state of the bathroom in a Georgia middle school. She was at the school with her son, who attended last year and was visiting an old teacher, according to Us Weekly. She stepped into the bathroom for a tissue and history was made. Well, Facebook Live was made, anyway.
In the video, Ashonti Dixon explains that she teared up listening to the school's chorus practice, and hit up the bathroom for a tissue. Once inside, though, she couldn't help but marvel at the grossness that is this dirty Lithonia Middle School bathroom. Dixon grabbed her phone and made a video showing the non-working toilets, broken stall doors, missing soap dispensers, filthy sinks, and empty toilet paper holders. That video, posted on Facebook on March 9, has now been viewed over 20,000 times, because holy moly, this is the bathroom from hell.
But it's not just the state of the bathroom that's making people watch (after all, how many people really want to see a video of a dirty bathroom?), it's the 36-year-old mom's hilarious commentary. Talking about a roll of toilet paper just hanging out on the dirty floor, she asks, "Who wants to use tissue that's been on the floor? Nobody. Because our vaginas matter, they really do."
Fun is fun, but as Ashonti Dixon tells Us Weekly, "I'm a funny person, but at the same time I am serious." While she's surprised her video has gotten as big as it has, she says that she hopes that this will lead to an improvement in the state of the bathroom, saying, "Our kids deserve better."