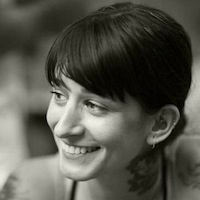 Filed by Jessie Dean Altman

|

May 19, 2016 @ 1:45pm
On Sunday, 21-year-old mom and army wife Naomi Jael Covert, from Vilseck, Germany, instagrammed what she considered just a regular picture of herself breastfeeding her 10-month-old son, TJ, at a wedding.
The caption on her picture reads:
When you are at a wedding, wear fancy dresses and high heels. [dancing emojis] and your baby gets hungry, well... You give no shits and feed the kid.
The picture had over 4,000 likes as of Thursday afternoon. It was also re-posted by the popular Instagram account empoweredbirthproject, where it has since racked up (get it? rack?) over 13,000 likes. That account wrote in the caption: "That's right mama, you feed that baby wherever and whenever he needs to eat. Show 'em how it's done @mrsz.covert."