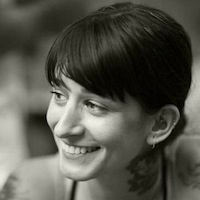 Filed by Jessie Dean Altman

|

Mar 07, 2016 @ 2:02pm
Charlie Crenshaw is six months old and lives with her mom, dad, and older brother in Atlanta, GA. Her mom, Katie, posts tons of pictures of her kids and writes a blog called Twelve and Six. Charlie is your typical cute, happy, bubbly little girl, who just happens to have a (not even that unusual) birthmark on her face.
A post shared by Katie | Bay Area Blogger (@katiemcrenshaw) on
Recently, Crenshaw got a little tired of all the comments from people on her blog and Instagram saying how sorry they were about how she looked, worrying about the little girl's health, and even going so far as suggesting that Crenshaw turn her daughter's head in photos to only show her "good side."