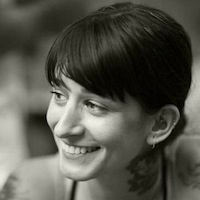 Filed by Jessie Dean Altman

|

Sep 01, 2016 @ 11:57am
Julie Koehler was taking her three daughters, ages 4, 5, and 8, to a party in Evanston, IL when she decided to make a quick stop at Starbucks. It was 70 degrees in Chicago, and she lowered the windows of her minivan and opened the sliding side door. And then, as Reason.com reports, in the three minutes it took her to buy coffee, a cop came to investigate the situation and scared her young daughters to tears.
Koehler, a public defender, dashed back to the minivan and brusquely asked the cop to explain what was going on. As she explained to Reason.com, he yelled back at her, demanded to see her ID, and accused her of child abuse. The officer told Koehler that he could take her children from her, at which point she called her husband and mother and asked them to come get her. The cop gave her back her ID and she thought that was the end of it, until an agent from the Department of Children and Family Services (DCFS) showed up at her home two days later.