A gift directly from the gods of content is this glorious misunderstanding that seems written directly for Phil Dunphy from Modern Family.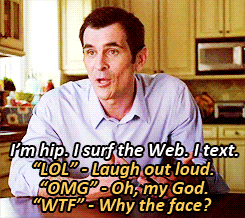 We got a cool mom over here, who unfortunately misunderstood the terms of millennials' anilingus obsession. As Gawker (RIP) declared in 2014, we are living in "The Booty-Eating Renaissance," with oral-anal sex oft-discussed in both hip hop and meme culture.
Twitter user Grace's mom caught wind, and interpreted the metaphorical as literal.
The text went super viral, and people are also very concerned about Grace's 127 unread text messages.
!!!!!!!!!! WHY DOES SHE HAVE 127 UNREAD MESSAGES !!!!!!!

— Josh Patterson (@cjdubbya) October 19, 2017
More alarming to me is the 127 unread texts

— Katie Nix (@KatieHNix) October 19, 2017
But why does this person have 127 other messages. That's stressing me out.

— Britt (@cuddleholic) October 19, 2017
The role reversal is the funniest part.
"Who are you hanging out with?"
It's important that a child knows and trusts their parents' friends and makes sure they're not hanging out with bad influences.
As of now, the mystery remains unsolved.
But in the meantime, 'tis the season.