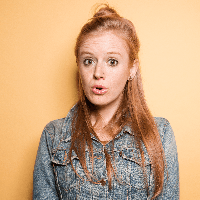 Filed by may wilkerson

|

Mar 14, 2017 @ 1:40pm
Okay, I have been on Tinder and I know it is a place you don't want your parents to ever see or even know about. But in a new Buzzfeed video, some fearless souls turned over their Tinder messages to their parents to read out loud. And yeah, it got awkward.
One woman had the decency to warn her dad: "I'm sorry, but you're about to enter a world of hurt." And a few of these parents look so miserable you can't not laugh, err, I mean empathize.
This is not one of the tame dating sites like Match or OkCupid—this is TINDER. So the messages are particularly R-rated (and creative). Like this gem which one daughter read out loud to her mom: "Do you like dragons? Because I'll be dragon my [bleep!] across your face." (At least someone is using their English degree!)
And then there are those odd "compliments" you tend to stumble upon on dating sites, like this one:
You can watch the video here:
This is basically my worst nightmare. But I also love watching these incredulous parents try to grapple with the frenzied, highly-sexualized reality that is modern dating. They got to have awkward meet-cutes in parks and carriage rides and drive-in movies. And we get "i'll be dragon my [bleep!] across your face"???
Get your shit together, dudes of Tinder.