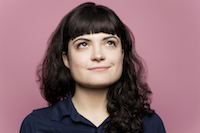 Filed by Jaime Lutz

|

Mar 28, 2016 @ 2:53pm
Jill McLean, a 36-year-old professional pole dancer and instructor from Australia who performs as "Cleo the Hurricane," wasn't about to let a little thing like having a gigantic baby bump stop her from creating incredible pole-dancing routines. She even added in belly rubs:
Shot at Cleo's Rock N Pole BRAND new location in Los Angeles! Watch out pole world, I'm competition ready with my new signature move - the baby belly rub! Wearing Sonic Siren #cleohotpants in turquoise www.cleothehurricane.com

Posted by Cleo The Hurricane on Monday, January 25, 2016
"I take my pregnancy VERY seriously and would never put on a pair of 7 or 8" heels if I wasn't completely comfortable and confident in them," McLean wrote on her blog. "Strapping on these heels and strutting to the pole, completely confident and aware, with my heels as an extension of my legs I feel completely comfortable! To be honest I am more clumsy at home barefoot than I am in a studio with sky-high stilettos on."