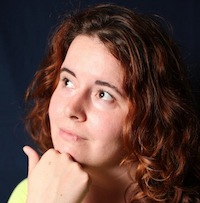 Filed by Aimee Lutkin

|

Jan 25, 2016 @ 10:03am
Stacie Venagro is a three-time World Miss Fitness America Pro and 2014 Miss Fitness Universe, and she is currently 30 weeks pregnant. Her body, as you can imagine, is still fit as hell. In fact, in an interview with Mom.Me on Thursday, she made it pretty clear that fitness is as much of a priority as growing a healthy baby—they don't even have to conflict. She said:
My doctor told me all I needed was an extra 200 calories per day, none of this "eating for two" stuff. I wanted to make sure they were clean calories. I take in either a bigger breakfast or lunch and a smaller dinner. I'll have an Isagenix shake, adding blueberries, chia and flax seeds, frozen berries, ice, water, coconut oil and powdered peanut butter. That takes it from 270 calories to more than 400 calories.