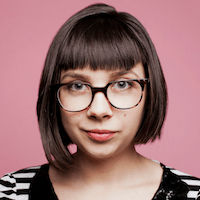 Filed by April Lavalle

|

Apr 14, 2016 @ 10:42am
Now that Zooey Deschanel (the quirky, ukulele playing, polka-dot-dress-wearing actress and singer) is a mom, she had some words about the pressure of getting back into shape immediately after having a baby. Basically, she thinks having to get back to your pre-baby body immediately is weird.
She may not have released any pictures of her new daughter yet, but she spoke candidly to Redbook about motherhood in a recent interview.
To expect someone to look like her pre-baby self immediately is odd. Because you just grew a human and then birthed that human—there's a lot that needs to go back to where it was. All your organs move around, for chrissakes!
Aw, even the way she described the shifting of her internal organs was charming! Her daughter, named Elsie Otter (yes, like the animal. Very on brand for the 'adorkable' star), was born in July. So far Deschanel and her husband Jacob Pechenik have kept Elsie out of the eye of the public, but Deschanel gushes about her new baby at every chance she gets.