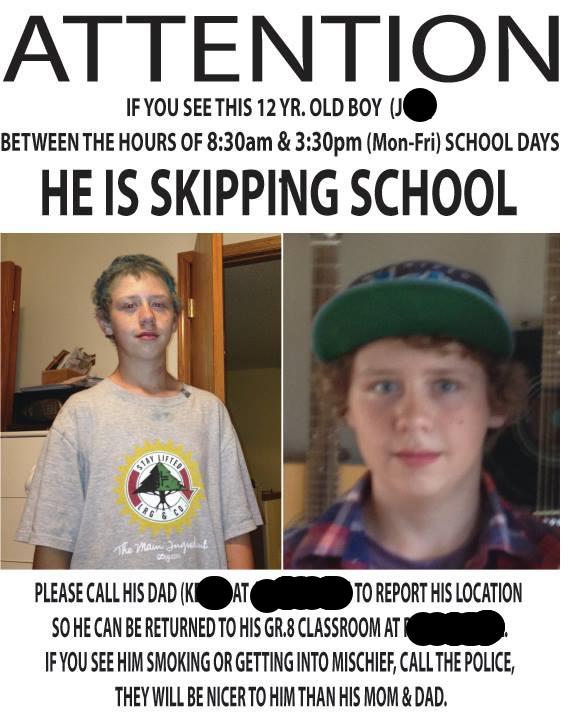 UGH. Good job picking photos that make me want to see him get punished, parents.
I already hate this kid. Don't get me wrong—he's young and he has time not to be a total dickhead when he grows up. As things stand right now, however, I'm glad that he's up in some tiny town in the Canadian province of Alberta keeping his "tough 12-year-old" stare well away from the Lower 48. Not that he's taking this guff from his parents lying down; here's what he had to say when his dad posted this on Facebook:


"I'll tell everyone you got drunk and fell asleep on the couch on Boxing Day! Scandal!"
Seriously, what has gotten into that little bastard? Besides hormones, crappy friends and a wildly delusional "gangsta" self-image (a tragically common affliction amongst 12-year-old boys), that is. Why don't we let his dad explain (via the person who posted this to reddit) a little more of the backstory:


You know you can tag your G with an RFID these days.
It looks like this father is really determined to see to it that his son gets a good education in life. Sadly, this kid (Jon, I guess) is determined to remain a G. So, it sounds like his only choice is to run away and get a job in one of Alberta's many tar sands oil fields, where the local roughnecks will demonstrate to him exactly how much of a G he is, and pound into him the importance of staying in school and being polite. You know what they say: it takes a village and some rowdy oil workers with no families of their own to raise a child.
(by Johnny McNulty)