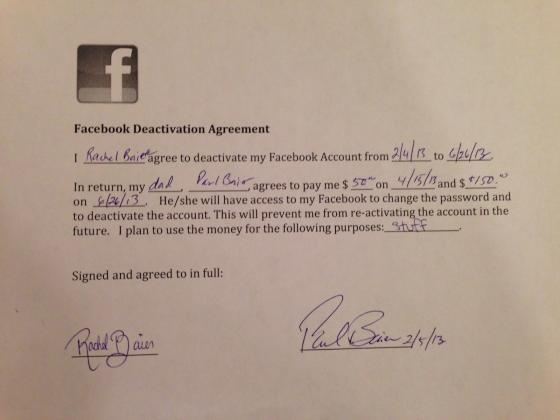 YOU SOLD OUT YOUR ESSENCE, RACHEL, AND YOU SOLD FOR CHEAP!
Massachusetts ninth-grader Rachel Baier, reportedly acting on her own volition, recently signed a document promising deactivation of her Facebook account and surrender of password privileges to her father's control, for over four months, all in exchange for the paltry sum of $200 ($50 up front, the rest when the experiment ends). It's not clear what she plans to use the money for, but given how bored she's about to be, we hope it's drugs.
We don't know Rachel, but after only a couple days since her agreement took effect, we miss her. When someone goes "off-Book," the absence is felt by all. A ripple of loss is sent across the social network. But we aren't content to simply mourn that loss. Instead, we're going to do what we can to get her back.