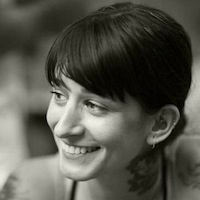 Filed by Jessie Dean Altman

|

Jul 14, 2016 @ 9:57am
In this video, aptly titled "Birth in Nature," Simone Thurber, who now lives in Park City, UT, gives birth, in a stream, without the aid of pain medication or a midwife, while her partner, Nick, records it. This was her fourth child, and her fourth daughter.
The video (which is filmed in Australia) is amazing and wonderful, but might be a little "yikes" (just like many Australian things) for some people, just in that watching any sentient creature experience a great deal of pain, especially while in such a vulnerable situation, can be a little difficult. It's kind of a lot to take in. In other words, Warning: Graphic Content.