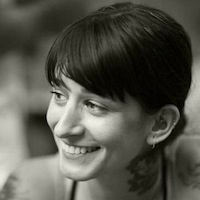 Filed by Jessie Dean Altman

|

May 17, 2016 @ 4:11pm
For four years, Macy Rodeffer had been trying to get pregnant through IVF and chronicling the process on Instagram. Over the course of those years, Rodeffer suffered three miscarriages, had surgery and took boatload of medication. Throughout it all, Rodeffer Instagrammed things like an IVF-themed reimagining of the lyrics to the Friends theme song, pictures of needle marks in her skin, and so, so many pictures of syringes. When she did finally get pregnant, she had the expensive, painful IVF shots to thank. She let her Instagram followers know about the good news by posting a picture of an ultrasound picture and a little onesie emblazoned with "Worth the wait and wait and wait" surrounded by a heart made of all those used syringes.