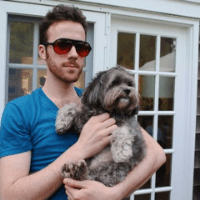 Filed by Miles Klee

|

Oct 23, 2016 @ 12:34pm
One Georgia couple is going to have a great story to tell their son about how he came into the world: as a complete and utter surprise.
Michael Jaegers rushed his wife Stephanie to Piedmont Henry Hospital in Stockbridge, Ga., the moment she told him of her abdominal pains. A kidney stone seemed the most likely culprit, but Michael's Facebook post early on the morning of Oct. 19 suggested something else was afoot.
Please pray for Stephanie. I'll take as many as I can possibly get. More details when I've got time to explain.
Hours later, he revealed the true cause of Stephanie's discomfort. Although she'd gained no weight or experienced common pregnancy symptoms like morning sickness over the past nine months, she was about to give birth to a baby boy.
Well, what Stephanie and I thought was going to be a kidney stone, turned out to be a beautiful baby boy. Shaun Jude Jaegers was born at 3:50AM this morning weighing 7 lbs. 3 oz. We are both still in complete shock over the events of the last few hours and appreciate the prayers and well wishes. Now to fit 9 months of pre-planning into 2 days!
Getting 38 weeks along unawares is rare, but it happens. After talking to doctors, Stephanie and Michael had a decent guess as to how they'd wound up with a little miracle like Shaun when they thought their third child would be their last.
Steph was diagnosed with pre-menopause awhile back which would justify the hormone imbalance also associated with a pregnancy. Shaun was also breech throughout the entire pregnancy which prevented him from moving around to indicate to Steph that he was in there and his position made it to where Steph didn't "show". The most bizarre part is she continued to have a menstrual cycle, which the hospital tells us is rare, but can happen. Lastly, Steph broke her ankle a couple of weeks ago and was laid up for the last couple of weeks limiting her movements. All of this together ruled out in our minds even the remote possibility of a pregnancy.
Shaun, for his part, seems just as surprised as anyone.
Stephanie and Shaun have since been discharged from the hospital...
...and it seems Shaun is ready to move on from his viral fame.
Trouble is, once you make an entrance like that, everyone wants to see what you'll do next.