On January 11th, many world leaders joined together in Paris to march in support of the victims of the Charlie Hebdo shooting. This newspaper made sure to protect its readers from knowing some of those leaders were women.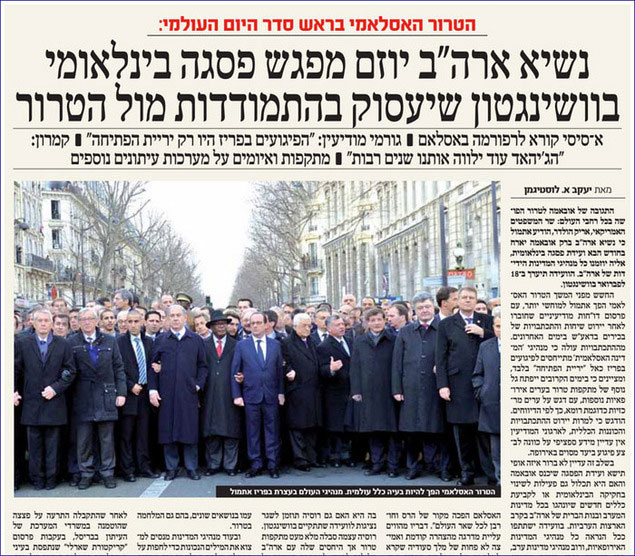 Ah-men. (screenshot via Walla)
In a moment of extreme journalistic irony, an image of major world leaders supporting the freedom of speech was censored.
Ultra-Orthodox Jewish, or Haredi, newspaper The Announcer sloppily Photoshopped 4 major political leaders from their cover photo of the front lines of the Charlie Hebdo march in Paris, simply because they were women.
The Haredi sect of Judaism is a response to the Jewish Reform movement, and calls for a complete rejection of modern secular culture, including a total segregation between men and women. In The Announcer's January 12th edition, they dealt with their conflicting desires to report the major news of world leaders banding together in support of the Charlie Hebdo victims with the responsibility of preserving their religious beliefs by simply cutting out the parts they don't like. That is, the hideous women parts.
In essence, they are preserving their historical culture by altering history's present.
That, or they just really like it when Homo-sapiens have penises.
Israeli paper Walla says of the retouching that "Haredi sector daily newspapers operate under the supervision of a 'spiritual committee.'" That committee's task is to censor based on religious beliefs, and when it comes to publishing pictures of women, "the rule is simple: do not advertise."
Their paper while Golda Meir was Israel's Prime Minister must have been pretty thin.
Here is the original photo as provided by wire service GPO: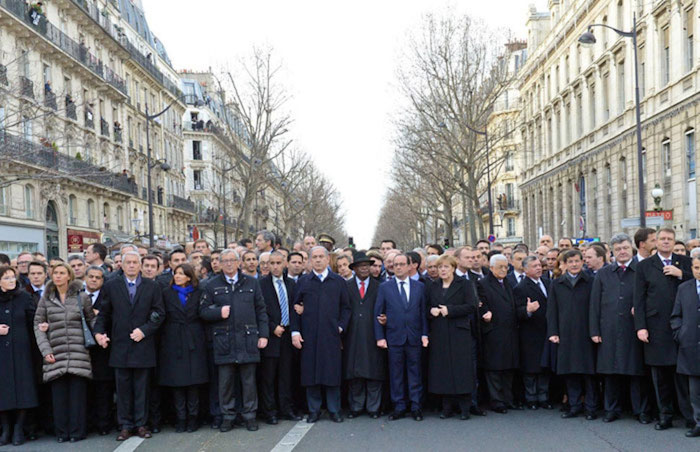 Ew gross, who let these vaginas grow on world leaders?

Below is The Announcer's version. Noticeably missing are German Chancellor Angela Merkel (standing directly to the right of Netanyahu), the mayor of Paris Anne Hidalgo in the bright blue scarf, Swiss President Simonetta Sommaruga (hard to see in the original shot, but she can be seen clearly here), and EU foreign policy chief Federica Mogherini in the grey puffy coat on the left who was just cropped out altogether.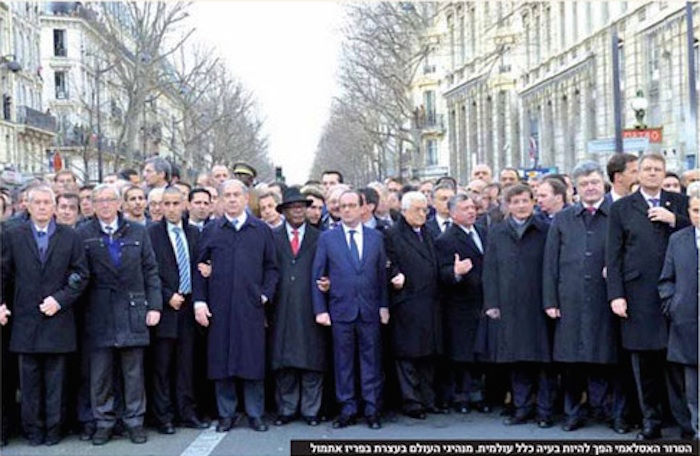 Much better to hold hands with a faceless monster than a woman. (via Walla)
Note how cropping out Mogherini provided them the opportunity to center Netanyahu to make him look like he was leading the march.
Mediaite helpfully singled out where the women went missing and the resulting Photoshop errors.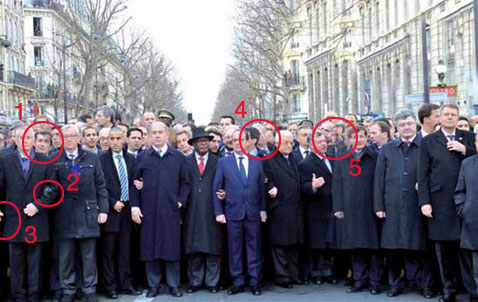 Looking more and more like a Kandinsky.

Per Mediaite:

1: Discoloration of man's face
2: World leader wearing a leather glove on one hand and no glove on the other hand
3: Mysterious hand of Federica Mogherini
4: Blurry face of man standing behind where Merkel used to be
5: Uh…that's not a Photoshop, that's a monster.
Mediaite has since realized that #5's monster is the result of blurring out the barely seen face of Swiss President Simonetta Sommaruga.
Dear editors at The Announcer, who I know aren't reading this because it is written by a woman and therefore does not exist, I have a new "simple rule" to propose for you: If you really want to segregate yourself from modern culture, do not report on it.