WOMEN, DO NOT GO OUT IN PUBLIC WITHOUT READING THIS TREATISE. (Warning: "it may seem superficial to some of you.")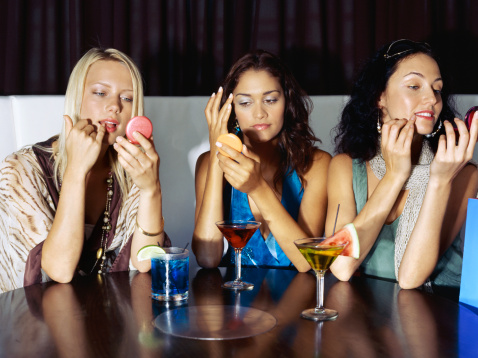 "You need to look nothing but your absolute best."

Jezebel received an email from an anonymous tipster which lays out appearance guidelines for the thoroughly inadequate women of the Alpha Chi Omega sorority at University of Southern California.
The email, penned by the "Personal Development and PACE chair," urges us to be mindful of just how useless a woman is until she has taken every measure to adhere to society's specific beautify regimen.
Remember ladies, no one cares about your present unless they can shred through some beautiful wrapping.
Let's consider the following...
Spanx: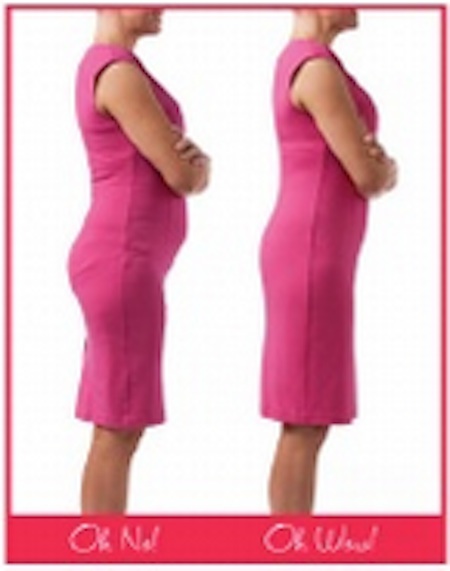 (Image included in original email for helpful guidance of undeveloped female minds.)
"(Any brand will do.) I cannot stress how important spanx are to make you look your best. Even if you are very thin, Spanx will give you a better "line" when you wear clothes (no awkward bumps!) Plus you don't have to worry about sucking in all the time or being bloated!"
Hair:
"Remember: your hair needs to be one normal color. No crazy ombre, no color you wouldn't see in nature. (Also, if you're thinking about going from blonde to black or vice versa, do so after recruitment. You won't know for sure what it will look like, and if you hate it/your hairstylist does a bad job, that won't fly.) You cannot have roots during recruitment, so if you dye your hair like me, please take care of that before arriving back to school."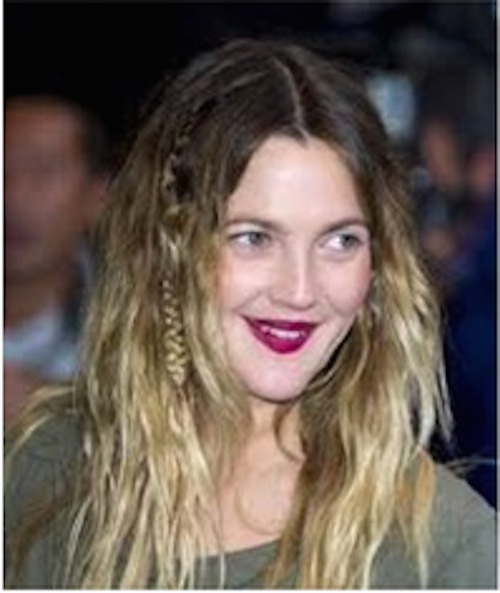 "NOPE"
(Picture and caption provided by AXO email)
From the ombre roots to the nappy braid, Drew Barrymore would get kicked out of this sorority faster than you can say, "Drew Barrymore is an accomplished and award-winning actress, model, producer, director and author who has been working since she was 11 months old."
Eyebrows:
Eyebrows shape your face. Bad eyebrows will make you look less beautiful than you actually are! Your eyebrows need to look neat (as in not messy) for recruitment. I know "full" eyebrows are in right now, but "full" does not mean "BUSHY" or "WILD."... Alternatively, if you have SPARSE eyebrows then you need to fill them in.
If only someone had taught this to Ayn Rand, people might have been more accepting of Atlas Shrugged its first time around.
Hair Again:
"For recruitment, your hair has to be curly or straight. No waves. In this case, you either need to have a curling iron (for our curly gals) or a flat iron (or a blow dryer if you have pin straight flat hair and you're super good with hair so you can blow your hair out.) Note: if you have straight hair and you want to wear it curly, don't. Your hair needs to be able to hold for 15 hr days and hairspray crunchy or limp hair is not acceptable. Also, get some heat protectant and shine spray. Damaged, frizzy hair is not going to attract PNMs."
PNMs? I'm guessing Potential New Members or Persons of Nebulous Merit or Please Neuter Me.
"We don't want to look 'emo' or like we're actually trying to flirt with PNMs by touching our hair all the time."
Makeup:
"You need to have foundation, concealer, something pinky/neutral for the lips (stain, gloss, etc), BLOT POWDER/OIL BLOTTERS, eyeliner (BLACK or BROWN only), mascara, neutral eyeshadows, bronzer, and (optional but recommended) blush. If you are not wearing the required makeup, I will stop you and apply it myself. I don't care if you're late for class. I don't care if you're a sophomore or a super senior. I will stop you."
I feel like all of this is common sense. Who would buy their way into a social group if they didn't want to wear makeup? Go big or go homely.
Glasses:
"We would like to strongly encourage that you wear contacts during recruitment. Obviously if that is not an option for you or if you are uncomfortable doing so it is by no means mandatory.
Oh, no. Don't go soft on these girls now!
However, we want the PNMs to be able to see your lovely eyes the best they can and strongly encourage wearing contacts over glasses. Poking your eyes is worth it just this once, promise!"
Always look your best just this one lifetime, and we promise next time you can come back as a man!
In the rest of the email, our AXO dictator gives some more helpful guidance on nails (neutral pinks only, spend your money on gels) and a reminder to keep a stock of nude wedges and Tiffany blue necklaces.
Before signing out, Herr PACE chair reminds us why this is all so important:
"I cannot express how important all of this is to the development of our chapter. It make seem superficial to some of you, but if you don't make a great first impression, you have to so much more catch up work."
Here's the part that makes me saddest:
"In order for our chapter to be on the same levels as other sororities at [redacted] during recruitment, we need to play the game like they do."
TL;DR: Being a woman is an arms race.
Here's the email in its entirety, so you can go out there and be your best self!
Sorority Appearance Guidelines by jezebel2
EDIT: In an earlier version of this post a picture of the AXO chapter from University of South Carolina was used incorrectly. The actual chapter is from the University Southern California. Sorry for the confusion. #NotAllSororities