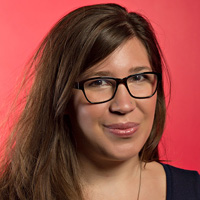 Filed by Alison Leiby

|

Mar 17, 2015 @ 9:00am
Having the cutest, quirkiest, most creative engagement photos is getting more difficult by the day.
Once, you could just have a shot of you two holding hands in front of a brick wall and you'd get all the Facebook likes you could ever dream of. Now, the thought of something as basic as that is akin to serving cocktails in mason jars at your reception or getting married because you want to—aka totally boring.
To ease this crucial wedding planning task, here are 10 fresh ideas for your engagement photoshoot location:
1. The bank where you have to take out the loan to pay for the wedding.
2. The bar bathroom where you first said, "I love you." At least you think that was it.
3. In your future divorce attorney's office.
4. The two of you fighting about what to watch on Netflix.
5. You two home from Ikea and trying to assemble a Norrviken.
6. Both of you next to each other looking down at your phones while eating out.
7. You two fighting over the wedding seating arrangement because all of your friends and family hate each other.
8. Him standing behind you with his hands on your stomach so that your engagement photos can double as your pregnancy announcement and thus answer everyone's questions.
9. The two of you sitting silently in the car on your way to your sister's couples brunch when he wanted to watch football.
10. You two sitting at the computer looking at all of the attention your engagement photos are getting, which makes all of this worth it.
(photos via Thinkstock)