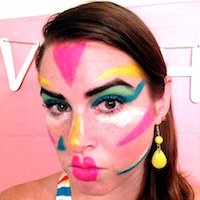 Filed by Ashley Bez

|

May 14, 2015 @ 10:39am
Canadian high school student Lauren Wiggins received detention for wearing a halter dress to school, but the mature reaction she posted on Facebook is what resonated.

Oh no! (gasp) A BRA STRAP! (via Facebook)

Lauren Wiggins is a 17-year-old student in New Brunswick, Canada. According to Wiggins, she wore the dress pictured above to school on Monday and received detention for being a "sexual distraction" to male students.
Later that day she posted a response on Facebook (below), making this astute observation: "If you are truly so concerned that a boy in this school will get distracted by my upper back and shoulders then he needs to be sent home and practice self control."
Today I received a detention because the outfit I am wearing is considered inappropriate and a sexual distraction to the...

Posted by Lauren Wiggins on Monday, May 11, 2015
The letter Wiggins wrote to her school's Vice Principal is powerful, eloquent and probably the most productive result of school disciplinary action, like, ever. Instead of fretting over a dress code violation, Wiggins voiced what the punishment says about double standards, gender discrimination, rape culture and the male gaze.

Wise words from a 17-year-old. (via Facebook)

Here is the full text of Wiggins's letter to the Vice Principal: