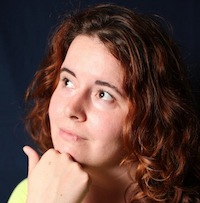 Filed by Aimee Lutkin

|

Apr 02, 2015 @ 9:33am
This video takes us a through a sexy, but not particularly funny, musical journey through the ages.
It's not easy being a lady in comedy. Lord knows, I've been working at it. Huge swathes of the population don't even think it's possible for a woman to be funny. You have to make your own opportunities, write for yourself so you're not constantly playing the nagging mom/girlfriend/wife character who tries to squash all the fun. You also gotta be down with the guys and not bum them out by objecting to rape jokes.

So, when a female sketch group has success, even of the viral video variety, I want to wave my lady flag (it has a bloody tampon on it) and say, "You go, girl!" It is with a heavy heart that I lay down my flag after watching SketchShe's latest video, which is more a collection of costume changes than a sketch. It also references Britney Spears' meltdown, which is tired as hell. And this is what they did for The Beatles: