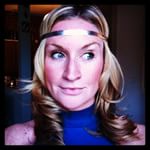 Filed by Selena Coppock

|

Mar 30, 2015 @ 2:25pm
What's a heartbroken girl to do during the fateful weekend of her ex-boyfriend's wedding?
Thanks to wedding websites, which trumpet all of the adorable details of a couple's courtship and honeymoon plans ("They hated each other at first—can you believe it?" "The bridesmaids will carry bouquets of snapdragons because that is the couple's shared favorite flower!"), it can be hard to ignore when your guy-that-got-away officially "gets away."