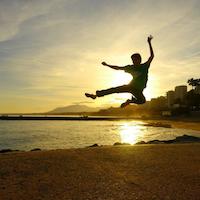 Filed by Mitchell Friedman

|

May 06, 2016 @ 5:00pm
A dude (who looks a little bit like the TMZ guy but is actually comedian Greg Benson) went to Hollywood to prank the balls out of some unsuspecting tourists. Never trust a man who willingly offers to take a photo of you, because he's going to magic himself into the background of that photo and film you freaking out.
Benson uses a cardboard cutout of himself to take the "magic" photos, because apparently people looking at a camera are not capable of distinguishing between a 2D mock-up and and 3D jokester.