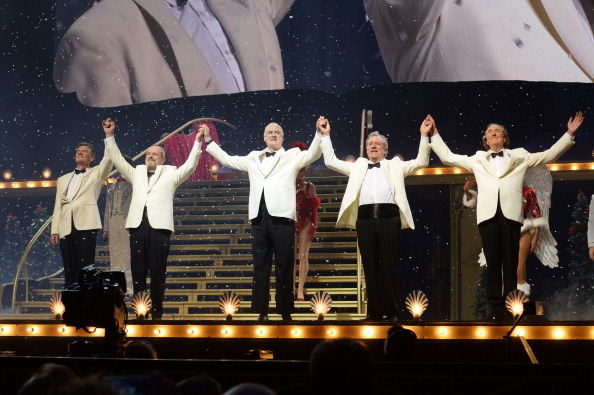 Enjoy it. It's your last chance, anyhow.
Some things in life are bad. They can really make you mad. And this is probably one of those things. And I don't even mean the hackish obviousness of that joke. I mean the fact that last night, the five remaining members one of the most influential comedy groups of the century performed live for probably the last time ever. Monty Python was supposed to do just one final show at London's O2 Arena, but the overwhelming enthusiasm from fans ultimately turned that one final show into nine final-ish shows and one final final show to be broadcast live around the world on the Internet.
Anyway, that final final show happened on Sunday. And in the final minutes of that final show of the final run of the British comedy's group's 45th year, John Cleese, Michael Palin, Terry Gilliam, Terry Jones and Eric Idle did the right thing and went out with one last performance of one of the greatest, most-oddly-positive, brilliantly-sardonic songs ever written: Always Look on the Bright Side of Life.
And that's the end of Monty Python. And, yeah, it's sad and all, but I'm sure another seminal, paradigm-shifting, globally influential comedy group will be coming along to take their place any time now.
Any time now.
(by Dennis DiClaudio)