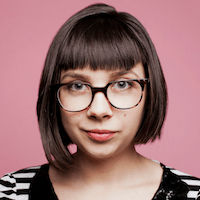 Filed by April Lavalle

|

Feb 28, 2017 @ 9:59am
A couple months ago, a 1984 clip from the British children's television show Emu's Pink Windmill went viral. The two-and-half minute music video took it's rightful place amongst popular internet memes like Grumpy Cat and the double rainbow guy, and has been viewed millions of times. Audiences couldn't seem to get enough of these highly energetic kids full-out dancing their asses off to an infuriatingly catchy song called "You Can't Stop the Music," and the video was parodied and recreated dozens of times.
Those spookily enthusiastic kids from the music video are now all grown up, and slipped on the multi-colored sweatpants one more time to recreate the viral clip for a good cause.
Pink Windmill Kids

The dancing Pink Windmill Kids are BACK, specially for Red Nose Day! Who remembers them first time round?! 🕺😂😝 If you've been inspired by their dancing, hop over to our website for more fundraising ideas https://goo.gl/qNF9PY

Posted by Comic Relief: Red Nose Day on Tuesday, February 28, 2017
Damn. They've still got it.
Especially Joe. Although we all miss the bowl cut, Joe is lookin' good.