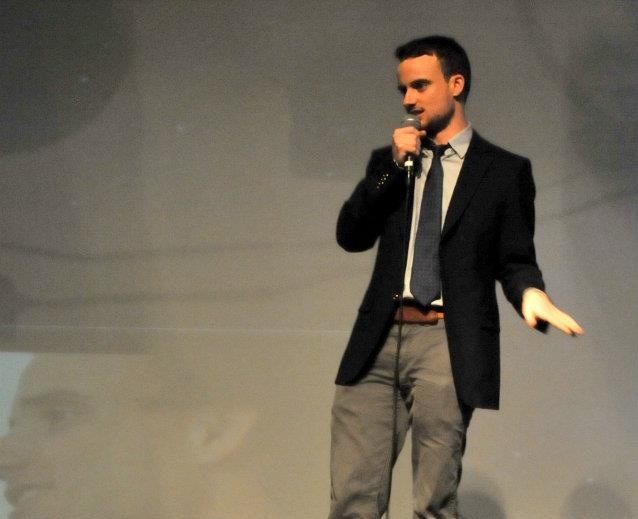 Pictured: Me, a known crazy person. (photo: Rob Michael Hugel)
According to a study published in the British Journal of Psychiatry and reported on by Reuters, comedians have an "unusual personality structure," scoring much higher than average on four psychotic personality traits: "unusual experiences" (belief in paranormality/psuedoscience), "cognitive disorganization" (an inability to...organize your thoughts), "introvertive anhedonia" (an inability to feel physical or social pleasure), and "impulsive non-conformity" (impulsive antisocial behavior). The most pronounced of which were comedians' high impulsive non-conformity and introversion scores.
In other words, comedians are weird, scatterbrained people who can't seem to sincerely enjoy anything and can't help taking jabs at people. Which should shock absolutely no one who knows comedians offstage. 
However, it's important to note that Gordon Claridge of Oxford University's department of experimental psychology, who led the study, said that although comedians score similarly (presumably at lower levels) to those with schizophrenia or bipolar disorder, this can actually be a good thing for them. Also, everyone scores somewhere on these traits. In healthy doses (if still greater than the general population) these traits just describe a moody introvert who's a little weird sometimes, and their disorganized thinking actually allows them to make more unusual connections between ideas, while their manic tendencies help collide those thoughts together in humorous ways. Which is actually not a terrible description of joke writing.
Aside from testing comedians vs the general populace, they also used actors as a control group. Actors also scored highly on three of the four criteria, except for the crucial category of introversion. Which makes sense, because both comedians and actors secretly want everyone to like them, it's just that comedians don't want to have to like anyone back.
(by Johnny McNulty)