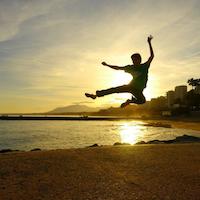 Filed by Mitchell Friedman

|

Nov 04, 2016 @ 11:05am
Thursday night on Conan, Tracy Morgan addressed the Wal-Mart truck driver who, reportedly sleep-deprived at the time, crashed into Morgan's limo and left him in a coma.
"You went through a real serious thing, but you did forgive the Wal-Mart driver, is that right?" asks Conan.
"I did forgive him and I'm not even mad at him," responded Morgan, to applause. "I'm not mad at him, but you know who is mad at him? All my white neighbors."
"You wouldn't have hit his ass, he wouldn't be living next door to me!" joked Morgan, who apparently moved as a result of the accident.
Morgan proceeded to talk about how he likes to shock his neighbors by driving his Lamborghini slow "like a pimp," and how if he had a better education, he could have starred on 60 Rock instead of 30 Rock.
Good to have you back, Tracy.