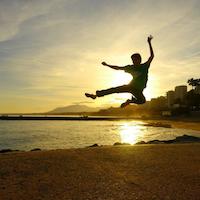 Filed by Mitchell Friedman

|

Jan 23, 2017 @ 1:38pm
A public proposal over Jumbotron is usually a terrible idea, because your partner might say no, and if she doesn't, then you're stuck with the type of person who accepts a Jumbotron proposal.
Or, in the case of two Atlanta Hawks fans on Sunday night, an enthusiastic bystander might knock the ring into the bleachers during a congratulatory back-slap. Skip to 1:04 if you don't want to hear the announcer say "kiss cam!" every time the camera cuts.
Anyway, these things always look pretty faked, like the time Pizza Girl made out with her pizza to mock some lovebirds in the seat below her, or the time that Boston kid went absolutely insane to Bon Jovi.
In this case, the very fast reactions all look staged—but you never do know. The people loved it anyway, and the clip's gone very viral.