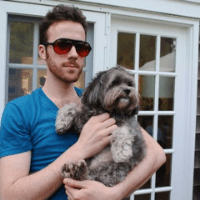 Filed by Miles Klee

|

May 19, 2017 @ 4:50pm
There's such a thing as being in the right place at the right time, and baby, this man was there, then. When Fox 10 Phoenix went live to a scene in Scottsdale after a car had crashed into a building, they noticed a cargo-shorted man dancing awkwardly in one of their aerial shots. Looking like the weirdest 13-year-old at a bar mitzvah, he continued to perform some robot-like moves while periodically checking his phone to see if he was still on the air.
Scottsdale Dancing Man

LOVE IT! Guy in a parking lot busts out his dance moves when he sees he's being streamed live from our news helicopter! 🕺😂 (If you know who he is, we'd love to talk with him!)

Posted by FOX 10 Phoenix on Wednesday, May 17, 2017
The man turned out to be Bryan Amann, who was working in a nearby office and ran up to the rooftop next door when he realized Fox 10 was streaming footage from the site. Then it was a simple matter of getting the chopper's attention. He has since promised to buy the web domain scottsdaledancingman.com.
Follow your fame, bro.