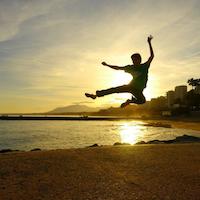 Filed by Mitchell Friedman

|

Dec 05, 2016 @ 8:41am
Sometimes Youtuber and always mom Amanda Bell found herself infuriated during a holiday shopping run at Khol's, so she did what anyone would do in that situation. She channeled her fury at an incompetent line holder-upper into a fun Snapchat video.
It works because Bell has a really, really excellent command of Snapchat filters. And a really, really angry take on anyone who spends too much time in line.
"Sooo... making this return, do I lose all my Kohl's cash...? Or just like, some of my Kohl's cash," asks Bell, impersonating a slow shopper while her face contorts into that of a square doofus'.
"Do you not realize that I have to go pick up my kids in like 15 minutes?" she asks, as a deer.
The video has nearly 4 million views since being posted on November 30, but of course not everyone appreciated her impersonations.
"You're really going to questions whether the lady in front of you knows that you have to p/u your kids?" asked one commenter, not really getting it.
Look, we all think we're the only person in the world while we're shopping. It's not a huge deal. Just hurry up.