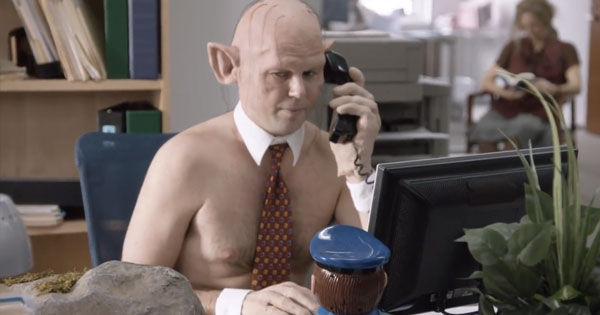 "Tricksy customersesss..."
The year 2001 saw two extremely important additions to popular culture. On July 9, Ricky Gervais and Stephen Merchant's faux-documentary series The Office premiered to British television audiences on BBC 2. It wasn't long before copies of the brilliantly cringe-inducing sitcom found its way into the hands of comedy nerds worldwide. A few months later in December, New Line Cinema released the first installment of Peter Jackson's epic adaptation of J.R.R. Tolkein's Lord of the Rings trilogy, thus realizing the dreams of generations of fantasy geeks while bringing the mythic tale of magic and heroism to mainstream audiences.
Aside from their year of release and the long shadows that each cast over their respective media in years to come, you wouldn't think that the two had anything in common with each other. But, they do: Martin Freeman. The British character actor portrayed Tim Canterbury in that original U.K. version of The Office (a part that was later adapted for U.S audiences into the part John Krasinski played), as well Bilbo Baggins in the Lord of the Rings prequel films, based on Tolkien's The Hobbit.
So, when Freeman hosted Saturday Night Live this past weekend, they made the most of the situation and created a short film that is simultaneously the best Office and LOTR parody ever:
My only problem with this is that it doesn't have any crossover appeal for indie film dorks, who know Freeman from Sundance's Fargo, or mystery dweebs who know him as Dr. John Watson on BBC's Sherlock.