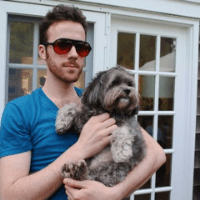 Filed by Miles Klee

|

Jan 14, 2017 @ 2:55pm
On Friday night, Republican students at the University of California, Davis, had hoped to host an event featuring Twitter-suspended trolls Milo Yiannopoulos and Martin Shkreli. That did not happen. According to the school, a massive protest "blocked access to the venue, and it was determined that it was no longer feasible to continue with the event safely."
Yiannopoulos tried to spin the cancelation as the result of left-wing "violence," falsely claiming that windows had been smashed, barricades thrown, and hammers brandished. Campus police reported no such eruption of mass violence, saying only that they had broken up a couple of fights between protesters and supporters and made "one arrest for obstructing an officer and battery of a peace officer." And the real story, as it turns out, was far better: Someone walloped Shkreli right in the face with a handful of dog poop.
As you might expect when a disgraced, indicted, drug-price-hiking young pharma exec whose main hobby is being gross to women on the internet gets dog poop on his insufferable mug, the mood on Twitter was celebratory.
boring tryhard Shkreli got hit in the face with dog shit last night. Meme magic bitch

— powerful good boy (@ItsTonyNow) January 14, 2017
If you were the person who threw dog shit on Martin Shkreli please come fwd. I want to carry you around on my shoulders while u wear a crown https://t.co/wzYG5a70Mh

— Mark Agee (@MarkAgee) January 14, 2017
Whoever threw dog shit at Martin Shkreli is now President of the Internet. I don't make rhetoric rules.

— Famous Mortimer (@Cosmis) January 14, 2017
In proof the universe bends towards poetic justice, Martin Shkreli caught dog shit w/ his face at the defeated fascism soirée at Davis. pic.twitter.com/1gnejtVI2N

— Scott Campbell (@incandesceinto) January 14, 2017
Martin Shkreli is such a shitty person you can throw dog shit at his face all day long for 300 years and still have taken the high road.

— Cole (@CocoTRobot) January 14, 2017
Apparently martin shkreli was hit in the face with dog shit last night. 2017 is already better than 2016.

— Diamanda Hagan (@Diamandahagan) January 14, 2017
https://twitter.com/ZeroHonks/status/820312461328924672
They should interview the dog whose shit got thrown in Shkreli's face. Hear both sides.

— Satans Little Helper (@SFtheWolf) January 14, 2017
Someone threw dog shit at Martin Shkreli? Why, were they mad at the dog shit?

— Mike Drucker (@MikeDrucker) January 14, 2017
I keep smiling at strangers every time I think of someone throwing poop at Martin Shkreli's face and it feels nice

— jesi (@sexdad73) January 14, 2017
Martin Shkreli got pelted in the face with dog poop and that's enough to make my Saturday.

— Dark Souls...cialsm (@bombsfall) January 14, 2017
If 2017 wants to be the year we hold Shkreli down and make him literally eat shit I am all for that

— Traci Shepard (@ta_shepard) January 14, 2017
We've yet to learn who threw the dog poop, which dog pooped it, and whether any got in Shkreli's eyes. But he and Yiannopoulos are supposedly mounting a campus march at 1pm PST on Saturday, and there's a good chance someone will be looking to serve him a second helping. Don't you just love freedom of speech?