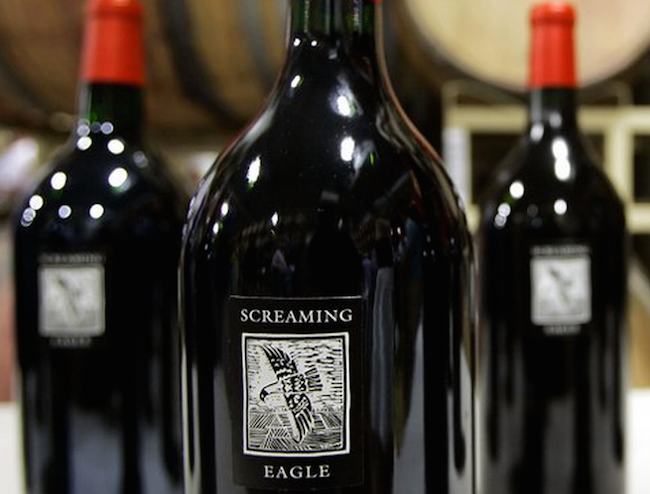 Screaming Eagle, stunned customer. (via)
A New Jersey businessman ordered a bottle of wine he was told cost "thirty-seven fifty" for the table, and wound up learning a valuable lesson in sales when he found out that the actual cost was $3,750.
Joe Lentini was eating at Bobby Flay's Steak at the Borgata Hotel in Atlantic City. When it came time to oder a bottle of wine for the party of ten, he asked the waitress for help because he didn't have much experience. When she pointed out a bottle of Screaming Eagle Oakville, he asked how much it costs and claims she said "thirty-seven fifty." That sounded good to Joe, who says he took her word for it because he didn't have his glasses.
At the end of the meal, the waitress dropped the check, and Joe and the other guests dropped their jaws when they realized that they just drank a ridiculously expensive bottle of wine without even knowing it.
The other diners backed up Lentini's version of the story. But when they pleaded their case to the manager, they were told the best price the restaurant would do was $2,200 for the wine.
Borgata executive vice president Joseph Lupo gave a statement to NJ.com, which I found impossible to read without hearing a South Jersey tough guy doing his "don't F with me" voice:
"Due to these factors, along with very detailed accounts from multiple sources regarding the incident, Borgata is confident there was no misunderstanding regarding the selection. We simply will not allow the threat of a negative story that includes so many unaccounted and questionable statements to disparage our integrity and standards, which Borgata takes great pride in practicing every day."
Lentini wound up splitting the $2,200 with two of his dinner companions. An expensive reminder of the first rule of dealing with casinos: the house always wins.
(by Jonathan Corbett)